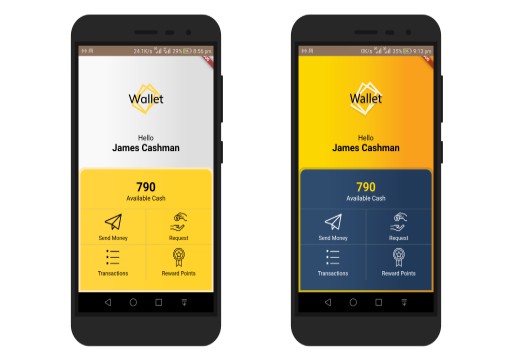 这个项目是Subramanian在Uplabs.com上发现的Design的实现。
Wallet Ui App
[![Maintenance](https://img.shields.io/badge/Maintained%3F-yes-green.svg)](https://github.com/RegNex/WalletUiApp/graphs/commit-activity) [![ForTheBadge built-with-love](http://ForTheBadge.com/images/badges/built-with-love.svg)](https://github.com/RegNex/) [![ForTheBadge made-with-flutter](https://img.shields.io/badge/flutter-made%20with%20flutter-blue.svg)](https://flutter.dev) [![ForTheBadge ios-supported](https://img.shields.io/badge/IOS-IOS%20Supported-lightgrey.svg)](https://flutter.dev) [![ForTheBadge ios-android](https://img.shields.io/badge/android-android%20supported-green.svg)](https://flutter.dev)
This project is an implementation of a Design i found on Uplabs.com by Subramanian
Art
Getting Started
This project is a starting point for a Flutter application.
To clone this project, open your terminal or cmd
git clone https://github.com/RegNex/WalletUiApp.git

Then locate the project on your system and open with android studio or Vscode or intellij IDE.
To Run:
C:\path\to\project> flutter run


Switch Theme
Long press to switch Theme
Resources
A few resources to get you started if this is your first Flutter project:
For help getting started with Flutter, view our online documentation, which offers tutorials, samples, guidance on mobile development, and a full API reference.
Prerequisites
What things you need to run the app
* Android Studio/Vscode/Intellij IDE
* Flutter SDK
* Android SDK

How to contribute
Author 😊
Etornam Sunu Bright
Inspiration
Subramanian